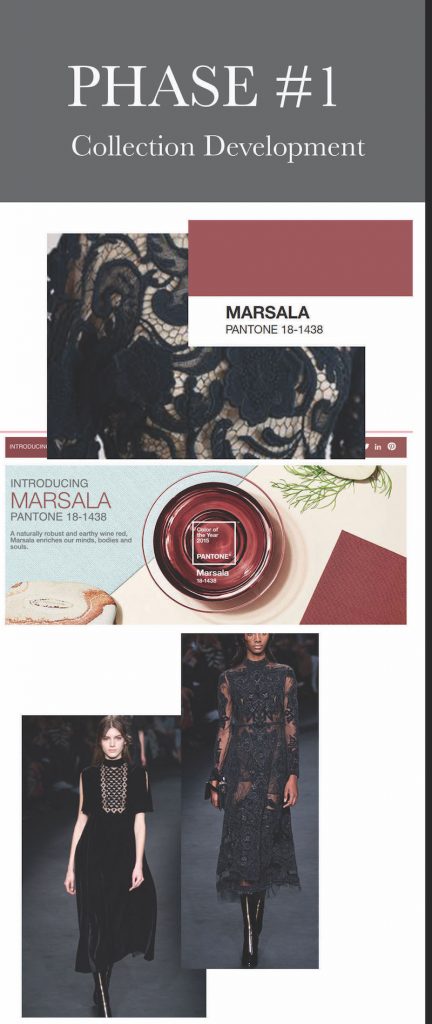 This page focuses on Phase #1, collection development however, these are all professional freelance fashion design services and phases we offer :
PHASES 1 – 11 of services :
PHASE #1 – THEME, FABRIC & COLOR DEVELOPMENT
PHASE #2 – QUICK & NUMEROUS FASHION SKETCH IDEAS
PHASE #3 – TECHNICAL CAD FLATS – (ADOBE ILLUSTRATOR FILES)
PHASE #4 – INDUSTRY PATTERNS, MUSLINS, FITTINGS.
PHASE #5 – SEWING 1ST SAMPLES
PHASE #6 – SALESMAN SAMPLES 
PHASE #7 – FASHION TECH PACKS FOR PRODUCTION
PHASE #8 – PHOTOSHOOTS & LOOK BOOKS
PHASE #9 – LINE SHEETS FOR BUYERS & FACTORIES
PHASE #10 – PATTERN SIZING/GRADING/DIGITAL COPIES
PHASE #11– ASSIST WITH N.Y. PRODUCTION 5-100 UNITS
Phase #1- Research, Development & Theme of New Collection
WINNING COLOR, FABRICS/DESIGN IDEAS by our freelance fashion designers :  
The fashion/apparel/garment designer researches fabrics, silhouettes, market trends & your desired customer first before starting any collection development or design sketches. We take this research seriously as freelance fashion designers and apply it to the theme & development of the collection. We research your customer's demographics, who they are, their buying habits, etc. We will scan the market for at the moment styles, runway shows, editorial magazines & in store visits. However, we pride ourselves in being more of a fashion leader, not a follower. This is where we shine and are proud to be our own freelance fashion designer team. Mood boards & color grouping will begin to form. Some fabric sections and color groupings begin to be developed. A virtual mood board & trend report will be furnished to client in this phase.
The world of apparel development | garment & clothing manufacturer is not as glamorous as it looks. From demographic and trend research, finding your brand's voice, and narrowing down your collection can be a overwhelming. We are here to help.
The apparel designer will create a virtual mood board containing colors (up to 8 colors), textures, some fabric swatches & email to client in jpg format. Designer will supply matching Pantone color #'s. Each color swatch is labeled and categorized with numbers and letters, allowing you to easily find the true color & communicate this with the clothing manufacturer or factory.
We cover collection development in our freelance fashion designer podcast! –
NEW FASHION PODCAST – https://itunes.apple.com/us/podcast/death-before-missy/id1052763637?mt=2