Phase #4 – INDUSTRY PATTERNS & FITTINGS.
 AN OPTIMAL FIT FOR GARMENT DESIGN IS VERY IMPORTANT
Our patterns for garment/apparel design are made using draping & flat pattern techniques combined for an optimal tailored fit. All of our pattern makers have a min. of 10 years experience. 
Do you need multiple sizes? Yes we can do that. This is called "grading".
Our freelance fashion designer oversees pattern makers, first muslins & fittings. We use experienced New York pattern makers each tested by us personally. Patterns for dresses, blouses, pants, jackets, etc, we do it all. Starting from a list of over 30+ patternmakers, we have edited that list down to only the best for the job. We pair up the best pattern makers specifically for your designs. Some pattern makers are better for women's dresses and some are better for lined jackets, pants, athletic wear or loungewear etc. We have already tested these experienced pattern makers for you so this will save you the stress, money and time.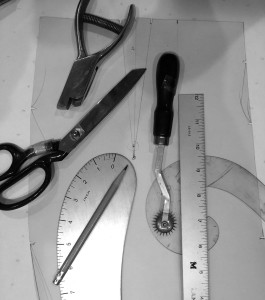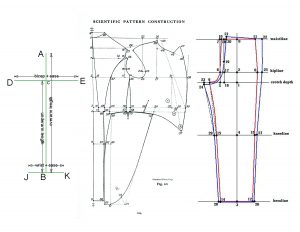 Phase #4 – Sample Development – Developing Patterns
This freelance fashion designer team creates & overseas pattern makers, first muslins, fittings & then adjustments to patterns after fittings or along the design process. Small minor changes in patterns (small fit adjustments, hem length etc.) are allowed. Design changes in patterns are an additional fee. ($50.00) per change, per style (example, changing a notch collar to a shawl collar by client)
Pattern samples are made in size small. Designer will provide small measurements to client. Soft patterns are made & delivered on blue dot pattern paper. Pattern envelope will contain pattern, muslin & cutters must on the back of envelope. Front of envelope will list style #, size & cad flat ( line drawing) of the garment. Front and back view.
Our professional patterns and muslins are made & fitted to a small fit model. Of course, all sizes can be created after first sample is perfected.
freelance pattern development guidelines:
Timeline for 1 single pattern is 2-10 business days. 
Timeline for 5 patterns 10-15 business days.
1) A 50% deposit is required before pattern is created.
2) Directions on cad flats need to be approved by client BEFORE pattern is started. If there are any changes on cad flat design & pattern maker has started pattern already, there may be a charge to change pattern.  ***Please note, the more changes you make during this process, pattern makers will hesitate to start on or correct your pattern because they will assume you will make another change soon. That is how they respond to too many changes.
3) Balance for pattern is to be paid within a few business days when client is notified pattern is finished & before client obtaining finished paper pattern.
4) After the 1st pattern is created & upon client reviewing the muslin in a fitting, small fit corrections will be made on the paper pattern free of charge after client reviews FIRST muslin fitting only. Any additional fittings/changes made after client reviews a actual SEWN SAMPLE, will incur an additional cost to revise pattern again. (if there has been a mistake by pattern maker, no fee will be charged)
5) client will receive paper pattern created on Blue dot pattern paper inside large envelope, cad flat of style on front, a cutters must on back of envelope listing all pattern pieces inside.
6) designer highly advises clients to have digital copies made of all patterns.
Fee info: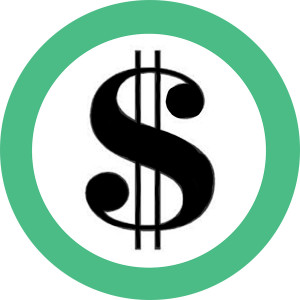 Back to Home page: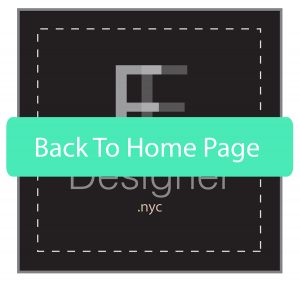 NEW FASHION PODCAST – https://itunes.apple.com/us/podcast/death-before-missy/id1052763637?mt=2
LinkedIn Profile – https://www.linkedin.com/in/lantie-foster-1v-07a96269