Clothing in the Amazon jungle, what does a girly girl wear?
PART 1 : Getting ready
This girly fashion designer has to go to Peru & the Amazon Jungle this December for almost 2 weeks. OMG! First question people ask – why? – answer – "Work" Which is very true.
– After deciding on this trip, an unexpected fear hit me fast. Not the Python snakes who will swallow you whole, the crazy humid heat, mosquitos, maleria, huge bugs, jungle animals….wait…omg…what am I suppose to wear? I'm not prepared for this! I own black, not Khaki. I don't even own a backpack. Holy sh**% I'm in trouble. Shoes! I can't forget shoes! I don't have any hiking boots. I live in NYC, I have street boots for potholes, gum & kicking taxi doors open, not water snakes & leeches. Clothing in the Amazon Jungle, seriously, what does a girly girl wear? There is nothing worse than traveling somewhere & being unprepared.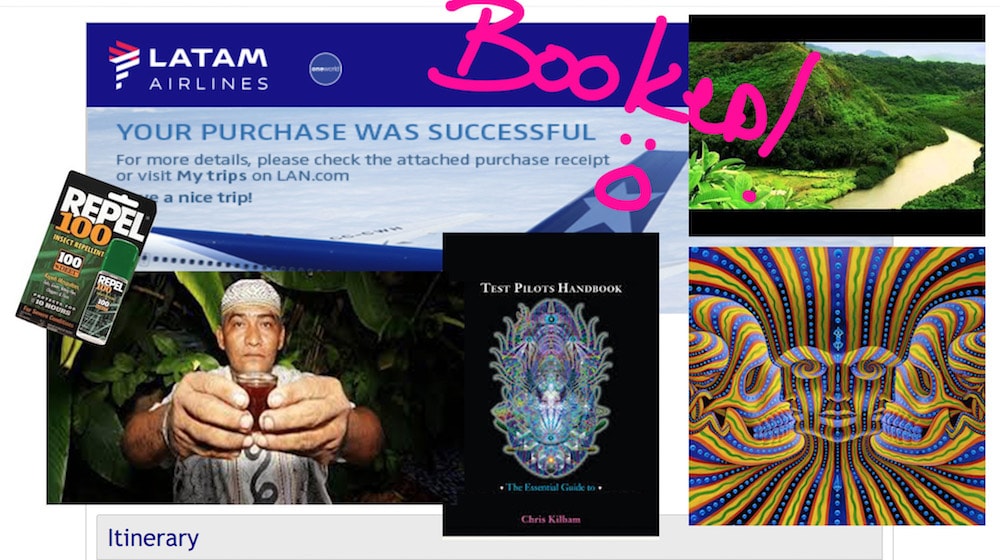 Am I going to end up like what's her name from the "Romancing The Stone" movie? Her & her suitcase fall down a mudslide waterfall while she's in broken heels & a see through wet skirt?  Probably.
More bad news, I recently found out clothing should be all light colors, no black. Dark colors attract all the bugs to bite & kill you. I'm doomed, my summer tan will be very faded to wear pastels in December.
Apparently, those cargo pants that unzip & convert into shorts are a thumbs up from many hikers but I tried some on (North Face) & they looked HIDEOUS! They also don't fit so great & do not have a dash of sexy anywhere. Super straight legged which does not look good on my slender frame. Now what? Most people would say don't worry about how you look but I disagree. I do not wish to travel around the world in some hideous uncomfortable hot cargo pants with "0 stretch" that make you look like you given up on life, no I'm out, you "Hikers" are not going to break me. I'm going to have to rethink this pant/bottom situation. I think I will have to make my own fabulous comfy, cute, TIGHTER/stylized, sporty, soft light colored pants with stretch which is exactly what I'm going to do.
Life saving clothing for the Amazon – this is what I have learned so far :
Waterproof hat – with a wide brim to stop rain & bugs from falling on your head or down your shirt – omg.
Shirts – Loose fitting w/long sleeves -100% cotton or linen. Just wearing a tank top is a no go. Tank tops are to wear in bed or under another long sleeve shirt..nothing tight that will not dry quickly.. It will be super hot & wet. You will get wet in the rain so it needs to dry fast while your wearing it! Little collars on shirts are good to stop bugs from falling down the back of your neck – ew.
**Bras – I'm personally figuring out the bra situation, looking for 100% cotton or fabric wicking sports bras that dry super fast while I'm wearing it!  "Victoria Secret activewear" may be good for this.
Pants – all should be light colored, lightweight, loose fitting, water-resistant is a big +. Pants w/a lil' stretch is good for light hiking or tourists walks. Let me tell you, I tried on so many different brands, I finally went with these.They were good in the waist & they were not cut too short in the crotch length which made them so much more confy. I'm 5'7″ tall & some pants were riding up on me which is very uncomfortable. Not these…I would wear these in the summer on the streets with a cute crop top& flip flops for sure…I loooooove them! Bought 3 pairs!, Two light cream colored & 1 this color pictured here. – on AMAZON –

SHORTS – These were super fab!! Beautiful color & very soft, you can also jump in the water if you wanted with these..I bought two pair. -on AMAZON –
**Undies – many pairs. I'm still working on that, bicycle shorts have been recommended. Something that breathes & dries quickly. I'm trying to find them all in nude or white to go under all the light colored clothes…ugh.
**Socks – **Very important they say..lightweight thin wool is the #1 recommended. More light colored, you want to see if bugs are on your feet..double ew.
Rain Poncho – who would have thought? I'm hoping my lil' lightweight rain jacket will be cool.
I have a plan, I'm going to buy some used clothing on Ebay. I will never use it again so I see this as a great $$$$ saving option. Hmm..now if I make my own pants…what fabric is lightweight, water resisitant w/a lil' stretch that will not make me sweat or scratch me? Poly-microfiber could  work. I thought this would be a perfect real life Project Runway challange for sure…:) Maybe I"ll punch some eyelet holes into certain areas for extra air like they do under raincoat armpits. Apparently a light weight fabric similar to swim trunks for men is the key. I'll let you know….xx ok, back to Ebay for now…I'm bidding on a swiss army knife…:)
Hold on for part two…"My return from the AMAZON jungle & what I wore the most"